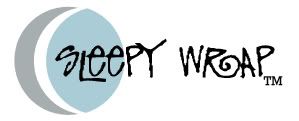 We all know that our babies are happiest when we keep them close! Well, you don't have to be decked out in fabric from head to toe to keep them wrapped up and comfy. These wraps are so adorable and look so comfortable mom and baby! Check out their
website
for lots of pictures and wearing information AND be sure to visit the
blog
for a great giveaway!
Be sure to check out the
testimonials
page for lots of great opinions from other mommies:
("Oh my... I always have my Sleepy Wrap on! Right now Jozko is sleeping on me. They really love it, I don't understand how they can be all scrunched up in here, while I walk around with them, clean up and they sleep like an angels, but if I put them in their crib, they cry.")
-Michaela O., mother of twin boys Jozko and Tomas, Bratislava, Slovakia (March 8th, 2008 -Email
Well....of course I'll be partial to any and all comments from twin mommies who are still able to "wear" their babies!